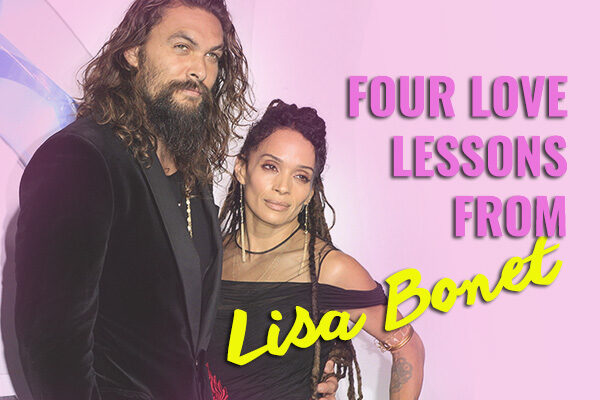 Have you ever lusted after a man and thought, "Wow! Whoever married him must be one lucky gal." No? Well maybe it's just me… 🙂
I remember venturing out of the house one lazy Saturday afternoon a couple years ago to see a matinee of Aquaman and going GAGA over the actor portraying this mythical sea creature. Jason Momoa is a larger than life, commanding presence and actor with a sparkle in his eye, a boyish curiosity for life, and a deep and abiding love for his family.
Mr. Momoa may have caught my attention for a few hours at the cinema, but it is the love story he has created with his wife, actress Lisa Bonet that I find inspiring. Lisa and Jason have been together for fifteen years (married for 3), and have two young children (plus grown daughter Zoe from Lisa's first marriage).
Diving deeper into their story I found four excellent lessons that we can all lean into during the journey to love. So without further ado, here are Four Love Lessons from Lisa Bonet.
Oh, and before I forget…I will be hosting this month's Coffee With Cami on Sunday, December 13th at 10am Pacific, with special guest, Erika Eleniak. You can find all the details below. Hope you'll join me! Now on to Four Love Lessons from Lisa Bonet!
Lesson No 1: You can (and probably will) have more than one great love in your lifetime.
Lisa and Jason may be living their version of happily-ever-after right now, but it wasn't always so. Ms. Bonet's first great love was musician Lenny Kravitz. They met when Lisa was a famous teenager starring on the 80's sitcom the Cosby Show, and Kravitz was a not-yet-famous rock star on the cusp of a big break.
In an interview with Vibe Magazine about her first husband, Lisa said her heart was blown open by just loving someone so much. Although Lenny and Lisa had a great love and produced a beautiful daughter together, they were also very young (20 and 23) when they married and lacked the maturity needed for a successful long-term partnership.
Here's the thing though, this is not very unusual.
Research shows that most people will have 2-3 great loves in their lifetime. Lenny Kravitz may have been Lisa's first great love, but Jason Momoa looks to be the one who takes it to the finish line. So if you think you've already met (and lost) the one, think again. (Perhaps there were times in the 12 years that went by between Lenny and Jason that Lisa questioned whether she would ever have a great love again?)
Doubt, worry, even post traumatic growth are a part of many people's life journey. So if you're in-between partners, it doesn't mean your dance card won't come up again.Have faith and show up for life as it wants to unfold NOW. Step back and be open to seeing what the gifts were in the partnership, and the learning you've gained. Someone extraordinary may be just around the corner. And a match for the expanded version of you.
Lesson No. 2 There is no "one-size fits-all" version of Happily Ever After.
An important thing to remember when it goes to inspiring a great love is that everyone's love journey will be different. Some people meet their forever love while in high school and stay happily married for 50 years. Others find each other early, breakup, marry different people, and rediscover each other years down the line. Some meet their partners on dating apps. Some meet in midlife or during their golden years… And some people fall in love quickly while it takes their partner a bit longer to catch up.
This was certainly the case with Lisa and Jason.
In numerous television interviews Jason has said the first time he saw Lisa was as young boy watching the actress in her role as teenager Denise Huxtable on the Cosby show.
"Ever since I was 8 years old and I saw her on the TV I was like, 'Mommy, I want that one."— Jason Momoa
Fast forward 18 years and he meets her through mutual friends at a jazz bar in Los Angeles. Even though he was a much younger [and broke] actor when she met him, there was mutual attraction and sparks flew right away.
"I can't say it was full-on from the moment we saw each other, but we have been together from the day that we met," Bonet told Porter magazine in 2018. "In that moment, love came and it came big, and he did not run as I think a lot of men do. He basically picked me up and threw me over his shoulder, caveman style."
Calling in "The One" is co-creative process between the two people involved. So embrace the fact that your version of Happily Ever After will be rich, and nuanced, and unique to you.
Lesson No 3. Marriage doesn't automatically equal commitment.
Just because he doesn't put a ring on it doesn't mean he isn't committed. In 2017 after two children and twelve years together Lisa and Jason decided to tie the knot in a secret ceremony (although they had been calling each other husband and wife for years.)
I couldn't say why they waited a dozen years to get hitched, except that this is the way they are choosing to live out their version Happily Ever After. Healthy relationship is a process that grows and changes. The structure and form it takes it totally up to you.
Only you know what you want for your life. And if you know you want him to put a ring on it, be clear and take action accordingly.
And if you're not sure? That's perfectly fine as well.
The point is not to conflate "commitment" with a speedy marriage proposal. Take the time you both need to discover one another, and who you are in the world with and without each other. Pay attention to how much energy, time, investment, and consistency he puts into your relationship regardless of the form it takes, because that is foundational to committed partnership (whether or not there is a diamond involved).
Lesson No 4: You can inspire a great love even if you had a rough start.
Just because you weren't modeled healthy attachment with your primary caregivers doesn't mean you can't grow yourself and make up for missing development so you can attract and sustain healthy intimacy.
One of the easiest ways to contract from life is to look at another person, or another set of circumstances, and decide that is why somebody got something you didn't. Haven't we all been guilty of this? (Be gentle because it's usually a younger part that's stuck in past disappointment.)
But the fact is, as glamorous as her life became, Lisa Bonet had a rough start. Her father and mother split when she was really little, and her father abandoned her, leaving attachment scars that took many years for her to heal.
Bonet doesn't often talk about her personal life, but in a 2018 cover-story interview with Porter magazine, she opened up about her feelings for Momoa.
"… What's cool about Jason is that he's an alpha male who stands for love and family. And to circle back to my own wounds, having an absent father, then to be fully met by a man of that stature, is really incredible," she said.
Bonet continued, "Jason embodies a rare form of masculinity in this day and age — he's a leader; he's generous. Just in terms of charisma, physique, the right use of power, responsibility, work ethic, you can go down the line."
BONUS LOVE LESSON
Here's the final Love Lesson: dare to dream BIG (maybe even Aquaman big) in your quest for love!
Let's face it ladies, this dreamboat is taken. But even before your ship comes in, I want you to stand firm in your intention to inspire a GREAT love, one as great as any of the couples featured in the Four Love Lessons series.
Your clear intention, commitment to self-care, self-compassion and to growing yourself into the woman you would need to become is how you go from dreaming about love to calling it in.
As 2020 comes to an end (please and thank you), let's consciously level up and take necessary action to attract the kind of love and devotion that is worthy of the big screen treatment.
Photo: Jason Momoa, Lisa Bonet at the Aquaman Premiere at the TCL Chinese Theater IMAX on December 12, 2018 in Los Angeles, CA © Hutchinsphoto | Dreamstime.com
---

A SPECIAL INVITATION:
Sunday, December 13, 2020 | 10 AM PST
This month's Coffee with Cami features special guest Erika Eleniak. If you are interested in creating new possibilities in your love life, then sign up for my free monthly coffee hang where we will inspire, encourage and support each other on our individual love journeys.
ABOUT ERIKA:
Actress Erika Eleniak first stole our hearts as the "pretty girl" who kissed Elliott in the movie, E.T. The Extra Terrestrial. Shortly afterwards she shot to stardom in her role as Shauni McClain on the hit TV show Baywatch. She then played major roles in movies such as Under Siege and The Beverly Hillbillies. After years of acting, writing and teaching acting classes and workshops, Erika finally got the role of her dreams being mom to her daughter, Indyanna.
Today, Erika is living on purpose and with passion, as co-creator/ writer and host of a podcast called, The Spiritual Alchemy Podcast with Erika.
Erika, teamed up with A Really Good Home Podcasts, combines her life experiences and years of spiritual studies to create inspiring lessons and stories shared by herself, as well as special guests. The goal of the show is to offer guidance and magical tools to transform our lives from where we stand now, to where we dream of being. It can be found on all podcast platforms.
CREATE DON'T WAIT
Coffee with Cami is a FREE, once-a-month Zoom Coaching Circle where I will share about my current dating journey, while providing group coaching as we all up-level our commitments to being visible and actively dating. This 60-minute call is intended to be a structure for women who want to create, not wait! We are not just going to be talking about love and relationships.
I will hold you accountable and support you as you move toward making your vision for love a reality. And the best part is this: at the end of the hour, we will all whip out our cell phones and… you guessed it, SWIPE for 10 minutes!! (If you are not on any dating apps, no worries. I'll send you a list of of the ones I recommend after you've signed up.)
Joining the Coaching Circle is FREE so sign up here. Space is limited, so secure your spot TODAY.
P.S. Is private coaching more your style? Click here to schedule a FREE 30-minute HELLO SESSION to find out how we can work together.