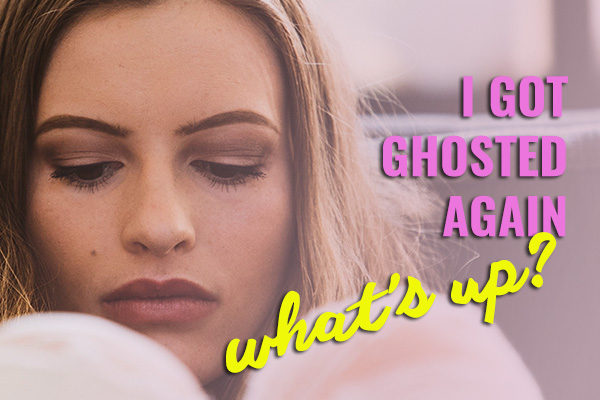 Hello there! I wanted to check in with a little update on my love life and what I've got to share, well it ain't pretty.
Guess what? I've been ghosted again!
Last time we spoke I scooped you in on my overflowing inbox and how I've been managing my dating schedule so that I don't get overwhelmed and give up. (If you missed that one, click here to catch up.)
Well, in true digital dating fashion, I've since moved on to dating two really promising guys I've had multiple contacts with on the app, on FaceTime, and in real-life socially distanced dates.
Ah, James and Peter… Where do we start?
Both seemed to be smart, interesting, successful, relationship-minded and charming in their own ways. Both were very complimentary and pursued getting to know me enthusiastically.
And truth be told, each of them brought a twinkle to my eye and a flutter to my tummy that I haven't felt in a while. And even though I wasn't talking to both men simultaneously, my experiences with them happened back-to-back… in fact close enough to give me a little dating whiplash.
Both James and Peter courted me respectfully, sending multiple flirty messages throughout the week, resulting in several engrossing phone conversations. One resulted in a romantic dinner date outdoors on the Marina, followed promptly by an "I really want to see you again.. are you free next weekend?" (during the date) and the other told me he wanted to get to know me better and asked if we could connect again for another getting-to-know-you virtual date.
I was thrilled! And because I don't believe in playing games, I agreed to both of the proposed date No. 2's. So the night before I was to see James for the second dinner date, he broke our plans with a brief text message and no further reply. I had just gotten my mani-pedi (in the blazing heat in my mask, since the salon was only doing socially distanced services in their back parking lot) – I wanted to show up to the date looking my best. The text message inferred that I didn't seem that interested. What? Who goes to get a mani-pedi in 100-degree heat and a mask if they're not interested?!
The second man just ghosted altogether and the second virtual date was, alas, never to be!
As I sing to you my sad song, rather than feeling sorry for me you might be totally relating.
Have you been ghosted enough times that you've lost count? Maybe the thought of being ghosted has stopped you from dating altogether?
Well, to be honest, my experiences with these two guys got me down in the dumps for a brief mini-pity party. I was venting about it last week to my girlfriend Shelly. (You might recall I introduced you to Shelly who met her now-boyfriend Doug during spring quarantine through an online dating app.) By the way, they are doing great and are still going strong!
And even though I am a love coach and should "know better," I admit, I found myself feeling down after being ghosted by two guys in a row. As I related my feelings to her, I could feel myself sinking into a place of not enough-ness.
It was right at this moment that she (like all good girlfriends do) snapped me right out of it.
"You got ghosted by two guys? Please! I got ghosted by 100s of guys before I met Doug."
I felt a little… better.
Then she went in for the kill.
"Cami, when we were first starting out our careers in music, how many auditions did you lose before you started Darling Violetta? And how many times have you been rejected by the music industry powers-that-be?"
"No clue…many, many, many!!!" I chuckled. (It must have been dozens.)
"And how many rejection letters did you get before you landed Buffy and Angel?"
Truthfully my memory is foggy, I only know that the number is high.
Yet one thing became crystal clear as she quizzed me. The rejections I received during the early days of my music career never once made me want to stop pursuing my dreams. In fact, the rejection was evidence to me that I was wholeheartedly pursuing my dreams and taking action. The rejection had the effect of making me MORE inspired to continue to move forward!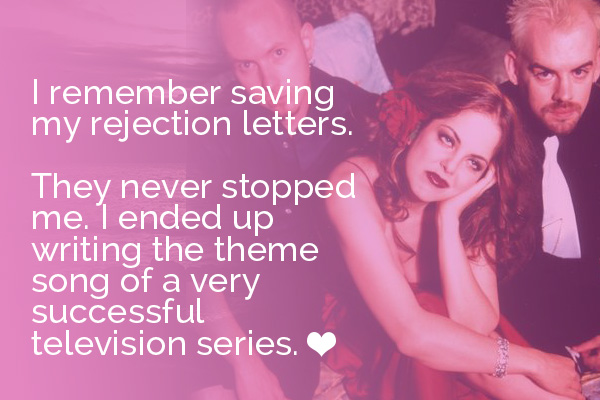 Becoming a successful singer/songwriter was the biggest desire I held since my early teens and I was determined to go after it no matter what. In fact, I used to collect my rejection letters and kept them as "trophies" because they reminded me of the effort I put in daily to pursuing my passion.
I never took these rejections personally. Some may have stung but the fact is, rejection is de rigeur in the entertainment business.
This attitude helped me become a successful singer/songwriter whose music was placed in television, film, and video games. I even ended up writing and performing the theme song of a very successful television series attaining a worldwide fan base. And releasing 3 albums of music!
Having Shelly remind me of my usually healthy relationship to rejection was just the medicine I needed to ground back in my commitment to inspire a great love.
So, in case someone has gotten you down, here are three quick tips that I hope will help you deal with disappointments with grace, peace, and clarity.
Tip 1. You can feel your feelings without making other people's actions mean something about you.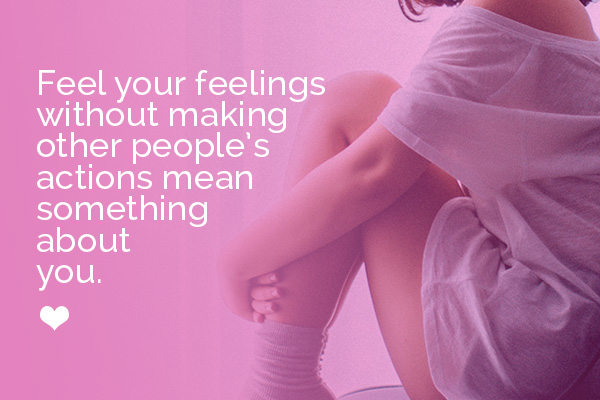 The healthiest thing you can do with your emotions is to feel them and then let them naturally dissipate. Spiritual bypassing never helped anyone, so if you've been disappointed by someone it's okay to feel sad or dejected. The key is to remember that feelings, like everything else, come and go. And as long as you allow yourself to feel them without making them mean something negative about you, any setback you experience will only be temporary.
Tip 2. Let ghosts do what they do best: disappear.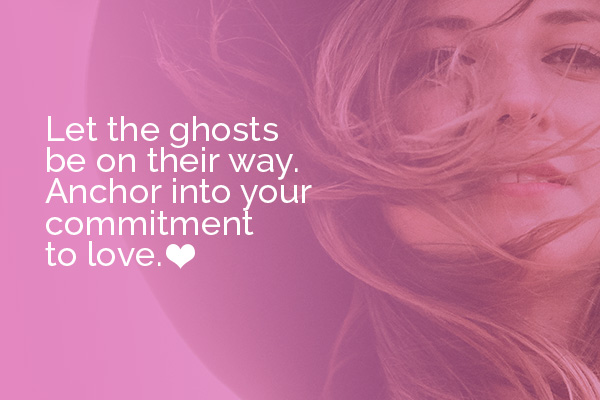 If there's one thing I know about healthy love it's that it is mutual. Look, I'm not gonna lie, it stings a little to be unceremoniously dissed, even from a virtual stranger or on a virtual date. But the truth is ghosting has always been a part of the dating landscape. So whether the apparition occurs on your phone or #IRL, let them go their way, and anchor into your commitment to inspire a great love. And it helps to have perspective. Do we really know that much about someone from a postage sized photo and a few lines on a dating app? Absolutely not. Who really knows what is going on behind-the-scenes in their life and in their heart and mind. All you have to know is for whatever reason, they are not available, so…NEXT!!
Tip 3. It only takes one person to say yes.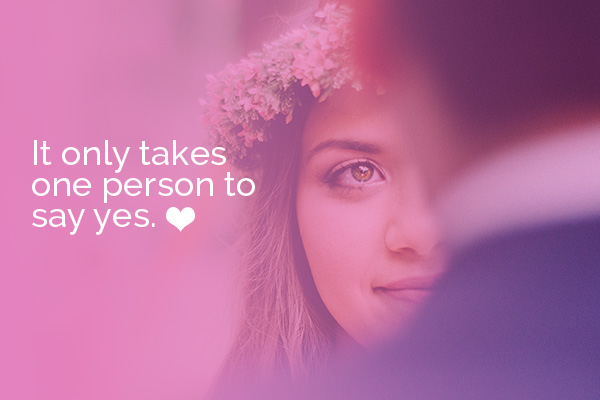 Sometimes stating the obvious is just what the doctor ordered (thanks Shelly), but it bears repeating. You're only looking for one right person, (unless you aren't, but that's an entirely different blog post), so unless you're just on the apps for a little "It's a match!" dopamine hit, please remember that it only takes one person to say yes. ?
Bonus Tip: Keep moving forward with intention.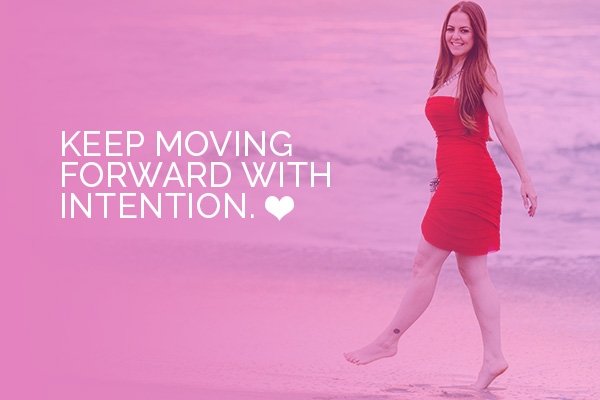 Moving forward with intention is one of my superpowers, even if I need to be reminded of that from time to time. It's probably one of yours.
The key to living a full life as a woman of character, grace, and poise is knowing that only you have the power to create the future you are seeking.
And no one (ghosts included) can ever take that away from you. If you'd like to join me in being proactive and positive about dating, be sure to join the next Coffee With Cami (see the PS below for details).
P.S. Don't forget to sign up for the next Coffee with Cami Women's Dating Coaching Circle happening on Zoom NEXT Sunday, September 13th at 10 AM PST. Sign up HERE.